Bank backtracks as economic clouds gather
As Hank Paulson gives up on his TARP scheme, Mervyn King admits the UK is already in recession...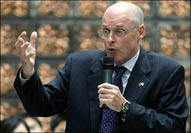 It's been another chastening 24 hours for the world's top economic policy-makers. Bank of England governor Mervyn King sent the pound plunging to new lows yesterday after admitting that the economic outlook was much worse than the Bank had originally expected. The Monetary Policy Committee has been forced into the biggest downward revision of its inflation forecast in its 11-year existence – it's now predicting that inflation will fall from its peak of 5.2% in September to about 1% by 2010. In fact, the economy is slowing down so quickly that King acknowledged it was 'very likely' that the UK was already in recession.
'The world has changed,' said King. 'There are very few historical parallels to the present set of circumstances.' In other words, how were they supposed to know what to do in advance? 'There's no way in which the committee can always have perfect foresight,' he protested yesterday (which is true, but you'd hope the MPC would have a better shot than most). Anyway, with the Governor promising to keep slashing interest rates – potentially right down to zero, if needs be – the pound has taken an absolute hammering. It sank below €1.20 for the first time ever, and also dropped below $1.50 for the first time in six years (it was worth $2 just four months ago). Still, who needs a winter holiday, right…?
Meanwhile over in the US, Hank Paulson has also had a pretty bad day. The Treasury Secretary has been forced into a 'stunning reversal' (as the FT put it) on his much-vaunted TARP programme, which was supposed to buy up toxic mortgage assets (thus taking the heat off the banks). Paulson has now admitted this will take too long, so he's ditched his original plan in favour of direct equity injections – ideally matched by private capital. This may be very pragmatic of him, but it's still a rather embarrassing U-turn – he's basically admitting that his plan was rubbish in the first place.