Bank cuts rates again to all-time low
The Bank of England has cut interest rates by another 50bps to 1.5% - the lowest in British history...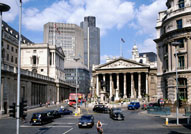 Much to nobody's surprise, the Bank's Monetary Policy Committee has voted for another half-point cut as it looks to stave off an even deeper recession; the new rate of 1.5% is the lowest since the Bank was created in 1694. In its statement, the Bank highlighted the shocking state of the world economy, which it said was 'undergoing an unusually sharp and synchronised downturn', and noted that the UK economy had actually been getting even worse during the last quarter of 2008. So another cut was always the most likely outcome – the only question was by how much.
There's certainly been no shortage of bad news for the MPC to chew on at its latest meeting. As it said today, business surveys indicated that 'consumer spending has weakened… the outlook for business and residential investment has deteriorated… and the availability of credit to both households and businesses has tightened further.' Then there's the precipitous fall in sterling, which has taken a hammering in recent months as interest rates have fallen – this should boost exports, but it will also mitigate the impact of falling inflation. The MPC suggested the various government interventions should help to stimulate activity over the course of the year – but its main concern now is to avoid under-shooting its 2% inflation target as prices fall. Hence the rate cut.
The big question this morning was whether the Bank would say anything about 'quantitative easing' – the fancy name for printing more money in an attempt to boost liquidity within the economy – after some of today's papers suggested this was imminent. Chancellor Alistair Darling told the FT yesterday that the Bank would have to work 'hand in hand' with the Treasury to introduce any such policy, which will have done nothing to dispel these rumours. However, the Treasury appeared to deny it this morning, suggesting that such a move was 'not currently on the agenda' - and there was no mention of it in today's statement.