The Bank of England is cutting interest rate decisions to 8 a year
The Old Lady of Threadneedle Street will also publish MPC meeting minutes at the same time, in a bid to bolster transparency.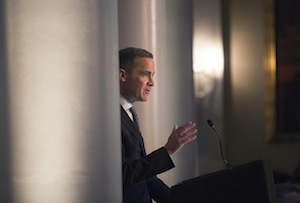 Those of you who await the Bank of England's monthly interest rate decisions on with baited breath or pore over the minutes of every meeting are in for a disappointment (although if you haven't got more to get excited about after 70 months of 0.5%, MT suggests you take up a hobby in the New Year) - the 300-year-old institution is cutting decisions to eight a year from 2016.

Following a review by ex Federal Reserve governor Kevin Warsh, Bank of England governor Mark Carney also announced:
1. Monetary Policy Committee meeting minutes will be published at the same time as interest rate decisions, instead of two weeks later, from August 2015.
2. Inflation Reports (the Bank's quarterly economic musings) will also be released at the same time as policy decisions in relevant months.
3. From March 2015, written transcripts of MPC meetings' second day (when decisions are made) will be released – but with an eight-year lag (the MPC was set up when Labour came to power in 1997).
4. The interest rate-setting MPC will have four joint meetings a year with the Financial Policy Committee, which looks after financial stability issues like the housing market, from 2016.

'These changes will enhance our transparency and make us more accountable to the British people,' Carney said.

Cutting decisions to eight a year brings the Bank into line with the Federal Reserve and the European Central Bank, which is doing away with monthly meetings from next month.

The changes will reduce the number of times traders dangle on tenterhooks, click fingers at the ready, and so instances of mad swings in the pound, government bonds or the FTSE at the slightest change in voting patterns or Carney's chat.

But dampening the flow of decisions could actually increase market volatility. 'When you reduce decisions, it will keep the markets guessing,' Brenda Kelly, chief market analyst at spread better IG, told MT. 'Markets don't necessarily appreciate uncertainty and they won't have their regular monthly meeting to avail of.'

Investors will no doubt get used to it – try as Carney might to keep them down, traders will keep finding yet more ways to bet on the markets.