Bank of England economist thinks interest rates will be 'lower for longer'
Andrew Haldane tries to calm the markets with the help of some cricket metaphors.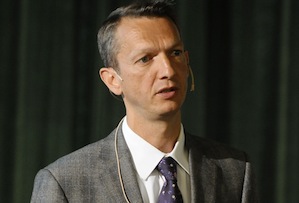 After a week of turmoil in global markets, the Bank of England has decided now is the time to do its bit to try to calm the storm. Its chief economist, and Monetary Policy Committee member, Andrew 'Andy' Haldane has said interest rates are going to stay low for longer amid a 'gloomier' economic outlook.

Haldane is a clearly a fan of cricket (or metaphors anyway). Four months ago he said he thought the Bank should 'play off the front foot' and raise rates sooner rather than later. But now, he said, 'the statistics now appear to favour the back foot' due to 'the mark-down in global growth, heightened geo-political and financial risks and the weak pipeline of inflationary pressures from wages internally and commodity prices externally'.

'Taken together, this implies interest rates could remain lower for longer, certainly than I had expected three months ago, without endangering the inflation target,' he concluded.

The speech, at a breakfast in the Warwickshire town of Kenilworth of all places, was clearly designed to reassure markets the Bank won't be choking off the economy with higher rates any time soon. Haldane had been seen as a middle of the ground member on the MPC, so his caution will be dovish cooing to the ears of investors.

And it may have done the trick, at least for this morning anyway. The FTSE 100 was up almost 1% this morning, having fallen 8.6% in the past month. The yield on 2-year UK government bonds ticked up four basis points to 0.68%, after shedding 20 basis points in the last month (i.e. their price had risen as investors moved out of equities into the perceived safer haven of sovereign bonds).

Haldane was also positively poetic about the UK economy, saying it was 'writhing in both agony and ecstasy'. In other, less Dantean words, strong growth, rising employment and low inflation (it fell from 1.5% to 1.2% in September) are being balanced out by weak productivity and tumbling real wages.

The economist also pointed out pay packets had fallen in real terms for all but three of the past 74 months (just over six years), the longest fall for more than 200 years. So while he may reassure markets for now, his metaphors can't hide what is a pretty dire prognosis for the economic recovery.