Bank of England governance is 'defective', says Tyrie
The chairman of the Treasury Select Committee has branded the governance system at the Bank of England 'defective' following the publication of reviews into the bank's performance.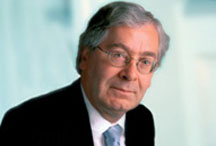 The BoE itself commissioned the reviews into its own performance before and during the financial crisis. But according to Andrew Tyrie, the chairman of the Treasury Select Committee, they did not go far enough and took too long to be completed. He said: 'The decision to commission these reviews fell well short of what was required. The fact that it took so long to obtain even these reports illustrates the bank's defective governance.' Stinging indeed for governor Mervyn King.
The reviews, which were commissioned in May this year, covered the BoE's emergency actions with HBOS and RBS in 2008; its ability to provide funding to the financial system; and its ability to provide accurate forecasting.
Given the BoE's forecasting announcements often have a noticeable effect on the markets, the comments on that review were particularly notable. David Stockton, a former director of research and stats at the US Federal Reserve, wrote this section. He said: 'There may be too few incentives and opportunities for staff to seriously challenge the Monetary Policy Committee about some of the key issues surrounding the forecast.' He added that 'the basic incentives align people to tell [Merv] what he wants to hear.' So even within the 'narrow' scope that Tyrie has criticised the reviews for, the criticism is pretty direct.
The review on funding gave a similar view on the governance structure, saying that the system of hierarchy 'risks reducing the range of views [the Governor] sees and, as such, might lead to a less effective overall outcome.' The comments echo former chancellor Alastair Darling's view that Merv is 'like some kind of Sun King around whom the court revolves.' The BoE has repeatedly rejected suggestions that its governance system is excessively hierarchical. Back in May, when there were calls for a full inquiry into the Bank's conduct and performance, Merv said: 'The important thing is whether you learn the lessons and we've done that.' Says who?