Bank of England to inject another £25bn of stimulus money
With the UK still lagging behind every other major economy, the Bank is throwing more money at the problem.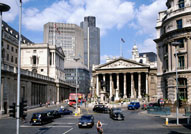 The Bank of England said today that it's expanding its quantitative easing programme to £200bn – a £25bn increase – in its continuing bid to push the UK economy out of the doldrums. The move isn't exactly a surprise, after official figures surprisingly showed that the recession dragged on into the third quarter (albeit many economists don't seem to believe them). And although we shouldn't underplay the risks of pumping such a mind-boggling sum into the economy, we suspect the Bank is right to think that the recovery still needs a lot more help…

Given that the Bank's Monetary Policy Committee decided against a similar hike last month, arguing that there were a few green shoots of recovery in evidence, it's clear that those recent ONS figures played a big part in today's decision. The surprise contraction of 0.4%, when most analysts had been expecting a return to growth, suggested the UK was in even worse shape than everyone thought. But the figure is controversial: some economists argue that it's out of kilter with other indicators, and will eventually be revised downwards.

Still, it's clear that the UK is in a pretty bad way – certainly in comparison to all the other major economies, which now seem to be emerging from recession. At Fathom Consulting's Monetary Policy Forum on Monday, a measly 4% of attendees thought the UK recovery was underway, with almost half suggesting things were about get worse again. So the consensus was in favour of boosting QE, with a £50bn hike the most popular option. In fact, given that the Bank has spent £50bn in the last three months, and £175bn overall, £25bn might actually be seen as fairly conservative (which just goes to show how recent events have skewed our perspective).

But the decision can't have been straightforward. Printing all this money inevitably carries an inflationary risk further down the line. It's still not clear how the Bank plans to unwind this programme once it's finished (which is making the City nervous). And rather more significantly, nobody seems quite sure whether it's actually working – almost a third of Fathom's brainiacs reckoned it was still unclear, with Professor Willem Buiter of the LSE arguing that the strategy of buying up government (rather than corporate) bonds is totally wrong-headed.

One thing's for sure: QE doesn't seem to have had much impact on bank lending to businesses; in fact, holding interest rates at 0.5% (as it did again today) may even be encouraging them to hoard reserves. If the Bank really wants to give the recovery in the real economy a boost, that's where it should focus its efforts.

In today's bulletin:
Bank of England to inject another £25bn of stimulus money
Respite for ITV as advertisers switch back to telly
Bad managers 'biggest cause' of work-related stress
A Traveller's Tales, MT's exclusive business travel blog
Sign up for our free MT breakfast debate - why bosses and IT types really need to talk more