Bank of England 'not fit for purpose' says ex-MPC man
As Mervyn King pushes on the deficit, the ever-outspoken David Blanchflower says the MPC should be disbanded.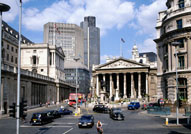 Inflation is back in the headlines, and so is Bank of England Governor Mervyn King. In a speech at Exeter University last night, he reiterated that the Government needs to be more specific about how we're going to address our burgeoning budget deficit – because it makes a big difference to the success or failure of his own efforts. But at least one influential voice reckons the Bank's credibility is already shot to pieces: King's ex-colleague David Blanchflower says that the Monetary Policy Committee was too slow to address the recession in 2008, and that they're in danger of making the same mistakes now…

King's point was that hiking interest rates is all very well, but it's hard to raise the national savings rate without eliminating the big hole in the public finances (because, for instance, we have to spend a lot more money on tax). 'Unless we demonstrate a strong commitment to fiscal sustainability in the longer term, we will have neither financial stability nor healthy economic growth,' he said - suggesting that the Spring Budget gave the Chancellor the perfect opportunity to put things right. In fact, Alistair Darling has already promised more juice in the Budget, so this isn't quite the attack on the Government some have suggested.

King's latest headache is an 'Et tu, Brute?' moment with his old chum Professor David Blanchflower, who used to sit alongside him on the MPC. Blanchflower is widely regarded as the only one of the committee to have seen what was coming, having voted for interest rate cuts for some time before the rest followed suit. He left the committee last year, and is now busy putting the boot into his old colleagues: he writes in the New Statesman that the MPC was 'asleep at the wheel' and 'missed the recession entirely'. In fact, failing to follow his lead on interest rates sooner made it worse, he argues. 'This MPC is not fit for purpose and should be disbanded,' he thunders. Ouch.

Blanchflower also thinks that the current focus on cuts is wrong-headed: 'What we have to focus on at the moment is getting a plan for recovery and growth, and then worry about paying off the debt.' That'll be music to Labour's ears, but it seems to be at odds with the Bank's view (and to be fair, that of international investors and ratings agencies).

One of King's biggest problems, of course, is that the Bank has such a limited range of tools at its disposal – after all, using interest rates to control inflation wasn't enough to prevent the worst financial crisis in a generation. King is well aware of this, arguing forcibly last year that it will need 'extra instruments'. So Blanchflower is almost certainly right in one respect: at least in its current form, the MPC's days probably are numbered.

In today's bulletin:
Unemployment falls to 2.46m - but beware false dawns
Bank of England 'not fit for purpose' says ex-MPC man
Eurostar sales up despite Christmas travel chaos
Why Kraft takeover will hurt Cadbury's talent production line
Managers failing to deal with underperformers