Can the Bank of England's bonus clawback plan really stop another global financial crisis?
Increasing the cost of risk-taking is sensible, but won't stop bankers outside the UK making big bets that go wrong.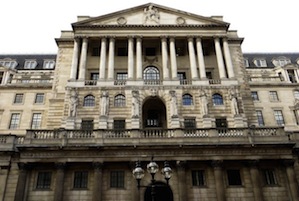 Just two days after Lloyds got whacked with £226m of fines for rate rigging, the Bank of England is continuing to lay it on misbehaving bankers. It has unveiled new rules to clawback bonuses up to seven years after they were awarded, even if they are in shares that have already been cashed and spent. Lawyers will be rubbing their hands in glee at the prospect of never-ending legal battles.

The Prudential Regulatory Authority and Financial Conduct Authority also published proposals to jail negligent bankers for up to seven years and make banks defer the majority of bonuses for five to seven years, up from the current three to five. At the moment, EU law means only a minority of a bonus can be paid up front.

The regulators also want senior bankers to be made to specify their responsibilities, to make it easier to hold them to account if their underlings go astray.

'The combination of clearer individual responsibilities and enhanced risk management incentives will encourage individuals in banks to take greater responsibility for their actions,' said Bank of England deputy governor and PRA chief exec Andrew Bailey.

Unsurprisingly, industry bodies warned the tough new rules could mean an exodus of bankers. 'As these new rules are among the toughest in world, we need to be careful we don't create uncertainty which might make it increasingly hard to attract talent to London,' said CBI director general John Cridland.

Increasing the cost of risk-taking and getting senior bankers to tighten up their chain of command is actually quite sensible. The biggest issue, though, in the borderless world of international finance is not Britain's bankers jumping ship to New York and Hong Kong (there are only so many jobs out there after all).

Rather, it's the fact that unless similar rules apply to everyone everywhere they won't stop foolhardy behaviour simply shifting to where it's less-tightly regulated. The UK may be an island, but the sea can't stop the tide of another global financial crisis.