Bank intervention quells Dubai panic - for now
Markets rebound, as the UAE central bank promises to stand behind Dubai's debts (well, some of them).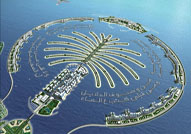 In some respects, the latest developments from debt-riddled Dubai have given investors even more to worry about: this morning the stock markets in the region opened again (after a four-day break for Eid) and promptly plummeted – while the International Monetary Fund weighed in to say it was keeping a close eye on proceedings (which, let's face it, is never a good sign), and property arm Nakheel asked for trading to be suspended on three of its bonds. However, the good news is that the United Arab Emirates central bank's new borrowing facility seems to have stopped a run on the local lenders. And in the longer term, Thomas Cook reckons Dubai will continue to attract sun-starved Brits...

There's been a lot of panic about Dubai since last week's shock news (that the emirate's investment vehicle had asked for a six-month break from its debt repayments); not least in the UK, with fevered speculation about which of our banks was most in hock to the emirate. However, these fears seem to be easing: apparently the Government isn't too worried about their exposure, while HBSC boss Michael Geoghegan, whose bank has lent about $17bn to the region, insists Dubai will 'overcome any short-term issues… and continue to lay the foundations for sustainable growth'. OK, so he's got a vested interest in talking the place up (to paraphrase the old saying: when you owe the bank $17bn, that's the bank's problem), but still.

Admittedly it's been carnage in the Dubai and Abu Dhabi stock markets today – they fell 7.3% and 8.3% respectively – but that was always likely given that this was their first day of trading since the story broke. In Europe and Asia, the markets have actually bounced back a bit, thanks in so small part to this weekend's promise by the central bank to stand behind Dubai's debts (via a new liquidity facility open to local and international banks worried about repayments being missed).

However, the central bank – which basically means Dubai's oil-rich neighbour Abu Dhabi – didn't exactly offer unequivocal support: it said it would 'pick and choose' which debts it would back. So although the short-term panic may have eased, Dubai's not out of the woods yet; it may still need to flog some of its prize assets. And until it tells the markets exactly what's going on (which for some reason it seems loath to do) fear and uncertainty will continue to reign.

Still, maybe us Brits will fly to the rescue. Despite its problems, holiday operator Thomas Cook said today that Dubai would continue to be a huge draw for UK travellers, given its year-round sunshine and white sandy beaches (and there should be some cheap hotel rooms going begging now too). Since about 95% of the emirate's income comes from tourism, it had better hope this is true.

In today's bulletin:
Bank intervention quells Dubai panic - for now
Sun keeps shining for Thomas Cook
RBS offers Yuletide credit cheer to small business
A Traveller's Tale: New York and US unprepared for double-dip recession
MT Expert's Ten Top Tips: How to work with really difficult people