Bank of Japan tries out economic wasabi
Japan's central bank has announced that it will spice up the economy with an enormous expansion of the country's money supply.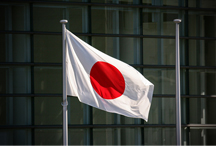 Bosses at The Bank of Japan are aiming to double the country's money supply in the space of two years in an extremely aggressive long-term bonds purchase programme. The plan is to spend 50 trillion yen on the things to get the money supply moving again. On the face of it, it looks like the most radical strategy so far to combat the Japan's infamous two-decade abyss of deflation.
It's also the first big move in new PM Shinzo Abe's 'Abenomics' agenda. As the new central bank governor Haruhiko Kuroda said on Thursday: 'We can't escape deflation with the incremental approach that's been taken until now,' adding: 'We need to use every means available.'
What's notable about Kuroda is that he did not rule out accelerating the bond-buying programme yet further if prices do not start rising with the initial burst. But he seems sure that the first round will have the desired effect. He said: 'I am confident that all the policies we need to achieve 2% inflation in around two years are now in place.'