Bank lenders drag their feet over rate cuts
Some banks have promised to pass on yesterday's 1% interest rate cut - but others are still reluctant...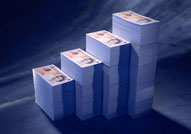 The Government is cranking up the pressure on the banks and building societies to pass on yesterday's 1% rate cut – and the good news is that small businesses look most likely to enjoy the benefits. Several big banks have already agreed to pass on the cut in full to all their borrowers– and even the likes of RBS and HBOS, which are refusing to reduce their mortgage terms, have promised to pass it on to small business customers. In the current political climate, banks are having to treat SMEs with kid gloves…
Some banks came straight out and promised to cut borrowing rates by the full 1% -notably HSBC, Lloyds TSB/ C&G, Bristol & West and Nationwide (indeed goody-two-shoes Lloyds promised in advance to pass on any rate cute in full). But not everyone is playing ball. Some, like Yorkshire Building Society, are enforcing a 3% floor on their tracker mortgages; HBOS is one of those that is not, but it's decided to cut its variable rate mortgages by just 0.25%. A bank spokesman told the BBC that it simply wouldn't make any money if it reduces rates any further – so it's just complying with the Government's insistence that the bank should be run on commercial lines. And therein lies the rub: the banks' cost of lending remains stubbornly high relative to the base rate (Libor is currently hovering around 3.8%) – so until that changes, all these charge reductions are just making profit margins even slimmer.
On the other hand, this has become a PR issue as much as a financial one for the banks these days. Those who don't pass on cuts immediately face even more public opprobrium than they're getting already – so in reputational terms, the question is whether they can afford not to. The banks that are taking big sums of public money will come under particular pressure, since the Treasury will demand a quid pro quo – even if they are at the same time claiming that the banks will be run on purely commercial lines, at arm's length from the Government...