Bank reporting - why more is less
Big banks routinely produce annual reports so long and opaque that even the people paid to read them can't figure them out. So what's the point?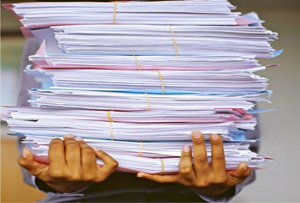 Doorstop annual reports may satisfy banking regulator but they serve no other purpose.
Here at MT we freely admit that the vagaries of big bank financial results often leave us scratching our heads. Page after page of tables and appendices on capital requirements, valuations, provisioning, not to mention the question of on and off balance sheet assets - lots of numbers but what are they all saying? Too often it seems designed to aggravate rather than ameliorate uncertainty.
Happily it turns out that we are in good company - Matt Spick, a London-based analyst at Deutsche Bank, has written a bold article in the company organ Konzept to pretty much the same effect.