Bank slashes rates by another 1%
Today's cut by the Bank of England takes interest rates to just 2%, the lowest level in over 50 years...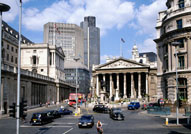 It was 1951 when we last saw rates sink as low as 2%, at a time when Britain was struggling to throw off the post-war blues and the public finances were shot to pieces. Today the Bank of England's Monetary Policy Committee announced another 1% cut to the base rate, taking it down to 2% again 57 years on. The MPC said in its statement that 'business surveys have weakened further and suggest that the downturn has gathered pace' and argued that 'it was unlikely that a normal volume of lending would be restored without further measures'.
Today's cut was no great surprise – since the Bank's radical 1.5% cut last month, the never-ending stream of bad economic news has kept on coming. This week alone we learned that the service sector (which accounts for two-thirds of our economy) shrunk at a record rate last month, while today the Halifax reported another dismal set of figures on the housing market. In fact, things appear to be deteriorating so rapidly that some economists were arguing for a more aggressive cut today – possibly another 1.5%, which would take rates to an all-time low. Ex-MPC member Willem Buiter was even suggesting this morning that the Bank should go the whole hog and slash rates to zero. Unprecedented times call for unprecedented measures, and all that.
However, there are two problems with this. One, it leaves the Bank no room for manoeuvre if it doesn't work. And two, it would send the pound spiralling even lower. In the last few months, sterling has been hammered in the money markets – this week its value hit a 13-year low, and an all-time low against the euro. The lower rates go, the lower the returns for investors – so a more drastic cut could have turned the sell-off into a rout. With the government about to ramp up borrowing, investors are clearly getting nervous about the UK's economic prospects – gilt yields are at record lows, which basically means that it's becoming a lot more expensive for the government to borrow money (and if it starts printing currency, there's a danger it could send inflation soaring again). So policymakers are in a tough position.