Bankers and accountants a drain on the state, says think-tank
A report argues that hospital cleaners are far more valuable to society than City types.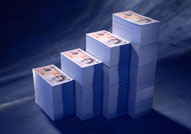 The New Economic Foundation is the latest to put the boot into bankers: the think-tank claims in a new report that bankers destroy £7 of value for every £1 they earn - whereas hospital workers, child minders and recycling staff produce up to £12 of value for every £1 that they take home. And bankers aren't even the worst offenders, according to the NEF: they reserve even greater ire for ad execs and tax accountants, who apparently destroy £11 and £47 respectively for every pound earned. The sentiment of the report is laudable - but some of this sounds a bit dubious to us...

The NEF has apparently come up with a methodology that calculates the cost to society of various professions - i.e. not just economic returns but also things like environmental impact and the broader effect on the community. So cleaners contribute to 'wider health outcomes', because they keep hospitals germ-free. Waste workers promote recycling and reduce carbon emissions, helping the environment. And childcare workers benefit society by allowing parents to keep working.

By contrast, the NEF says, any profits made by bankers (which create jobs and generate lots of tax) have to be offset against the fiscal cost of the current crisis. Tax accountants destroy value because they effectively deprive the Government of much-needed tax revenue; while ad execs have a negative impact on society because their efforts lead to over-consumption - causing obesity, indebtedness and anxiety.

Hmmm. We can't help feeling there are a few pretty glaring flaws in this methodology. For a start, it seems peculiarly temporal: presumably if they'd done this report before the start of the financial crisis, bankers might well have had the greatest value of society. Equally, why is it of value to society as a whole for a particular parent to work (what if the child-minder helps a tax accountant return to work, for example)? And whatever JK Galbraith says, is it really fair to blame the advertising industry for all society's ills? What about those who promote good causes? And then there's the hospital workers who don't do their job properly and give everyone on the ward MRSA... There's some pretty heroic assumptions underpinning these headline-grabbing figures.

The NEF's argument is that current pay levels don't reflect the true value to society of particular jobs. And it may well be right. But even if we do establish a high pay commission to re-establish the link, as it recommends, what exactly is it going to do? Presumably the only option would be for the Government to confiscate everyone's profits and redistribute them as it sees fit. And is that really a recipe for a strong, dynamic economy?

In today's bulletin:
Dubai bailout boosts UK - as our deficit nears £100bn
'Don't let Kraft steal your company', says Cadbury
Bankers and accountants a drain on the state, says think-tank
Flights of fancy in the office
MT Expert's Ten Top Tips: Build trust in your organisation