Bankers are much better now, says Mervyn King
Bank of England governor Sir Mervyn King has told MPs that he reckons culture at the big investment banks is much improved. 'Investment banking is changing - has changed considerably,' he says. 'It is in their own interest now to change the culture.'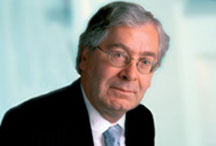 Speaking to the Parliamentary Commission on Banking Standards, King said that the 'economics of banking' had been irrevocably changed as a result of the banking crisis but warned that the industry still needed to ringfence everyday banking from the so-called high-risk 'casino' banking divisions. He recommended an automatic Parliamentary review of the ring-fence 'in three, four, five years' to ensure banks were not 'burrowing under' the fence. Not much of a vote of confidence there: this basically means that if regulators are left to their own devices, they probably won't spot infractions.
As to who should police the banking sector, King told chairman of the Treasury Select Committee Andrew Tyrie, 'I think you should do it. We're always being told that the Bank of England is too powerful. This is another power I do not want to receive.'
The Bank of England is set to take over regulation of the banks from the Financial Services Authority next year. Luckily for the outgoing King, he won't be around to clean up the mess if that all goes wrong...