Bankers holding 'secret talks' to reduce bonus pool
Representatives from the UK's top banks are apparently in negotiations to cut the size of the City's £7bn bonus pot. But problems are coming from all directions.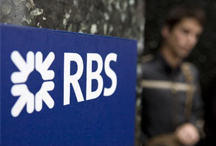 Have the nation's bankers suddenly developed a conscience? According to reports, senior members of some of the UK's largest banks are engaged in 'secret talks' to try to reduce the size of their bonus pool, estimated to be about £7bn this year, in an effort to rehabilitate their public image. The banks have reportedly been holding talks under the auspices of their trade body, the British Bankers' Association, to negotiate a cut in the amount they're planning to pay their employees in this year's bonus round. Apparently, the pot could be reduced by as much as £3bn – a sum worth saving, especially in these straitened times.

But, as with all these things, the negotiations are far from straightforward. For one thing, the banks risk losing some of their top talent. And for another, they could actually end up on the wrong side of competition laws. Can they ever win?

While the chances of winning (back?) the respect of the public are, let's face it, rather slim, it's at least a good first step toward regaining the trust of the Government. Business secretary Vince Cable has already threatened banks with further hefty tax rises if they begin to pay 'outrageously large' bonuses. And with a new levy on banks' global balance sheets already set to come into force at the beginning of next year (which could raise as much as £2.5bn a year for the Treasury) it's in their interests to avoid giving over even more cash to the tax man.

That's all well and good, but there's a potential Catch-22 in the pipeline if the Office of Fair Trading decides to get involved. Because, by working together on what could easily be deemed a form of price-fixing activity, the banks leave themselves vulnerable to prosecution under competition law. And while MPs are keen for the banks to prove that they're not 'arrogant and out of touch', in the words of CBI chief Richard Lambert (whose successor, current deputy director-general John Cridland, has just been announced), they're powerless to prevent the OFT from sticking its oar in if it feels there's a reason to.

The other risk is if, after the bonus taxes (not to mention all the demonising from the media), the bankers themselves decide to flee elsewhere. UK banks have already faced a blow after Wall Street, whose bonus pool stands at about $20bn (£12.4bn), or 80% bigger than the City's, refused to cooperate on setting the payouts with them. So we may yet see a mass exodus of bankers – although they have threatened us with that before, and it's yet to materialise with any significance. Although, as MT columnist Luke Johnson points out in this month's mag, bankers' partners and children are probably an important factor in this: we can't imagine there would be much enthusiasm for leaving friends and family – no matter how much more money they get out of it.

But despite all the practical difficulties, it does look like the realisation may be dawning on them that by reducing bonuses, they can save money – and win some PR points too. Double whammy.
Can bankers ever repair the damage they've done to their reputation? Will banks struggle to retain their talent if bonuses are capped? Let us know what you think below...