Banking behemoth Citigroup bailed out
Citi, once the world's biggest bank, has been forced to accept a $20bn bail-out from the US government.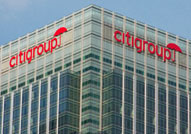 Deemed 'too big to fall', Citi has accepted an injection of $20bn in new capital from the US Treasury in return for preferred shares, as well as a guarantee from the US Treasury and the Federal Deposit Insurance Corp for up to $306bn of risky securities and loans on its books.
It's hoped that the radical action, which comes close to nationalising the ailing bank, will bring a confidence boost to Citi, whose share price dropped from $9.36 on Monday to $3.77 by the end of Friday. As one of the US's biggest banks, the official line was that Citi simply could not be allowed to topple, but unlike the bail-out of insurer AIG in September, there won't be a purge of executives.
The rescue plan comes at a price but CEO Vikram Pandit gets to keep his job. Brought in to turn around the bank in January, he spent this year watching Citi's worth plummet as it suffered losses from risky mortgages, commercial property, leveraged loans and collateralised debt obligations.