Banking Commission: 'Ring-fencing the banks ain't enough'
A report from the Parliamentary Banking Commission will call for the UK's banking sector to be broken up, saying ring-fencing them is not enough.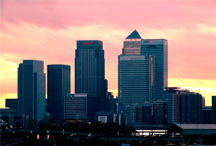 The future of the UK financial sector is up in the air again today, after it emerged that a report from parliament's Banking Commission – due on Friday – will call for laws which would allow banks to be broken up. The Parliamentary Commission on Banking Standards (if you wanted the name in full) is expected to back the main proposals from the Vickers Report, which include ring-fencing of retail and investment banking operations.
But the new report is also expected to throw some of its weight behind total separation of the two functions, to avoid situations where banks are not fully implementing their ring-fencing. Andrew Tyrie, the chairman of the Treasury Select Committee, has voiced fears that 'the effect of the Vickers proposals could be diluted over time' if some kind of statutory framework is not imposed. The upcoming report's recommendations might mean that retail and investment operations would have to become legally distinct entities and that the transfer of cash between them would be severely limited.
The proposals could be a spanner in the works for chancellor George Osborne, who last month warned the commission to avoid 'unpicking the consensus' that had settled around ring-fencing laws. The main point of the original proposals was to help protect consumers/savers' money in the retail operation from ever being lost in the much more volatile and risky investment banking operations.