Banking is still rotten to the core
Other People's Money and Straight to Hell clearly reveal the greed and sleaze endemic in the financial world. But there is a way to stop the rot, says Philip Delves Broughton.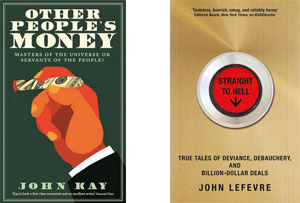 Janet Yellen, the chair of the Federal Reserve Board, and arguably the most powerful woman in the world (squeaking out Angela Merkel) earned a salary last year which was 1% of that of Jamie Dimon, the chief executive of JP Morgan Chase. Dimon and Lloyd Blankfein, the chief executive of Goldman Sachs, are now estimated to be billionaires from careers managing large publicly traded banks - not founding, it should be noted, but simply managing. By contrast, Sir John Harvey-Jones, a chairman of the British chemicals giant ICI in the 1980s died in 2008 leaving an estate of just half a million pounds. There are roughly four financial lobbyists in Washington DC for every one member of Congress.
If you have the slightest trace of doubt that the financial services industry hasn't wrapped its tentacles around the rest of society and is squeezing, then John Kay will put you right. A battle-hardened economist, he was hired in 2011 by the British government to lead a review of the UK equity markets. That experience proved the basis for Other People's Money, a courtly savaging of the financial world. Kay is no glib polemicist, firing giant dung balls over the fortifications of the City and Wall Street. He is an elite saboteur, a tunneller who before you know it has collapsed the walls.
He believes that finance has a basic role in society: to ensure efficient payments, capital allocation, economic stability and security in how all of us manage our personal finances. But if you were to ask yourself, has any of that improved in recent years, the obvious answer is no. We see house prices spiralling beyond the reach of the first-time buyer, banks whose greatest customer innovation of the past 30 years remains the automated teller machine, and more rather than less volatility in our national economic fortunes. The basic concerns of Main Street, Kay writes, such as redundancy, unemployment, accident, illness, mortality and providing for old age, remain as frightening as ever. Finance has done nothing to mitigate these risks, and even made them worse.