This is what banknotes look like when they're designed by children
A Norwegian designer submitted kids' drawings to a competition to create the country's new banknotes.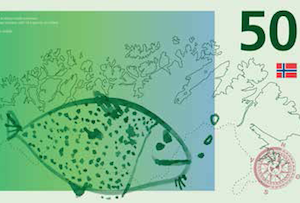 If you've ever left a child armed with felt tips in the vicinity of your purse, you probably already have a good idea of what they think banknotes should look like.

But while you may have been on the verge of a meltdown over your defaced dosh, Norway's central bank came close to actually letting money dreamt up by children into circulation. Aslak Gurholt Rønsen's ideas, featuring images he designed on one side and a child's drawing of them on the other, were shortlisted in a sea-themed central bank competition to design notes coming into circulation in 2017.