Banks found guilty of mis-selling to SMEs, too
In a whirlwind week of revelations about the financial sector, the FSA has described 'serious failings' in the sale of products to small businesses.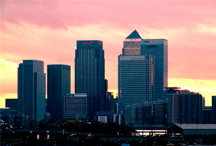 If you thought the financial sector couldn't possibly attract more criticism than it already has this week, think again. The FSA announced today that banks have been mis-selling interest rate hedging products to SMEs, generating revenue at the expense of their own customers. The repercussions are pretty vague though, as the FSA explains that Barclays, HSBC, Lloyds and RBS have agreed to provide 'appropriate redress' where the mis-selling took place. At least we know who some of the culprits are…
Interestingly, the statement seems to suggest those came off worse were the ones who bought 'the most complex products', and the banks have been instructed to sort those instances out first. The banks must be feeling the heat this morning (especially as the focus shifts from Barclays onto the other big boys over Libor manipulation), because they have all agreed immediately to stop selling these interest rate hedges to SMEs, and they have also hinted at compensating their customers.
The point of the interest rate hedge is to protect businesses from rising interest rates – the hedge investments would cover that expense if it happened. But the problem for SMEs arose when they discovered that falling interest rates meant ever-rising charges and that it was extremely expensive to get out of.