Banks 'have not served enterprise in this country', says Cable
Business Secretary Vince Cable says he'll force banks to lend more money to small businesses.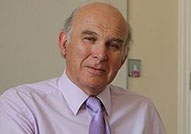 'The first thing you may have noticed is that I am not Peter Mandelson,' began newly-anointed Business Secretary Vince Cable during his first major speech yesterday. 'For one thing, I am a better dancer.' Lamentably, he didn't give us a rendition of his pasodoble – but he does hope to differentiate himself with his treatment of the banks. As a key player in the sector bailout, Mandy always found it a bit hard to really put the boot into RBS et al, but Cable has no such constraints. Yesterday, he insisted that parts of the banking system had 'not served enterprise in this country as well as they could' – and suggested that their failure to provide more loans was stifling the recovery…
Cable was a fierce critic of the previous government's softly-softly approach to encouraging bank lending, and it looks as though power hasn't dimmed his enthusiasm for change. Yesterday he set out three strategies to put banks back on track: first, forcing them to separate their retail and investment arms; second, introducing a levy so taxpayers don't have to bail them out; and third, redoubling government efforts to ensure SMEs finally see the benefit of these reforms.

On the other hand, Cable didn't offer much detail on exactly how he plans to ease the flow of credit from banks to businesses – which is likely to be harder in practice than in theory (after all, while we don't doubt his commitment to the cause, Peter Mandelson spent two years trying to do the same thing). To the banks' protestations that there just isn't any demand for loans, Cable suggested that 'if the bar is set too high, of course no one is willing to jump'. But there remains a contradiction here: it's not easy for banks to cut down on risky lending, at the same time as lowering its credit bar…

Elsewhere in the speech, Cable underlined his commitment to cutting red tape. He's hardly the first politician to trot out this old chestnut – and when asked which regulations in particular he wants to cut, there was a bit of a pause, which doesn't bode well. But he reckons that's partly UK plc's fault: organisations are quick to bemoan excessive red tape, he said, but when asked which regulations are causing problems, there is an 'embarrassing silence'. He's obviously not talking to the same entrepreneurs we are…

Speaking of Mandelson, a senior businessman MT spoke to before the event took the opportunity to pay Cable's predecessor a (slightly back-handed) compliment. 'Love him or hate him, he was finally getting to know what the issues were,' he said. Let's hope Vince manages to grasp the nettle a bit more quickly.

In today's bulletin:
BP to risk US wrath by not cutting dividend?
Will the Sun come out for Richard Desmond?
EasyJet traffic up as it unveils ash radar
Banks 'have not served enterprise in this country', says Cable
No way to get rid of a manager