Banks pushed to pass on interest rate cut
Despite Thursday's 1.5% cut, there's no guarantee that small business will see lower lending costs...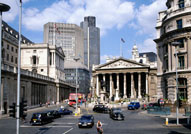 Britain's SMEs wanted drastic action on the economy – and on Thursday, they certainly got it. The Bank of England's decision to slash interest rates to 3% has created a few jitters in the stock market, but it seems to have gone down well with small business groups, whose members could now see their borrowing costs plummet. However, this will only happen if the banks will pass on the savings – and so far, some of them have remained suspiciously quiet…
Although nobody expected a cut of this magnitude, trade bodies seemed all in favour of the Bank's bold move. John Wright, the chairman of the Federation of Small Businesses, praised the 'unexpectedly large rate cut', suggesting it could potentially save small firms about £750m in loan and overdraft charges. Phil Orford from the Forum of Private Business agreed, suggesting that it would 'boost the confidence of business owners'. But both agreed that this would only happen if the banks were pressured into passing on the cut in full.
Indeed, despite the fact that interest rates have now almost halved in the last 12 months, banks are still reluctant to trust each other – the inter-bank lending rate remains stubbornly high (the three-month rate is currently hovering around 5.5%). This is the reason why borrowing is still so expensive for small firms – and it remains to be seen whether rate cuts alone will be enough to break the current logjam in the credit markets.