Banks seek new deal on nationalisation
With their share prices tanking, Lloyds, HBOS and RBS want the Government to re-think its no-dividend policy...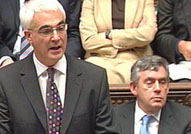 We knew it was too good to be true. Just when it seemed as though the Government had reached consensus with the banks about the best way forward, a major sticking point has emerged. As a condition of its £37bn recapitalisation, the Treasury is demanding that the three banks concerned – Lloyds TSB, HBOS and RBS – suspend all dividend payments for the next few years. But this has inevitably meant that normal shareholders don't want to touch the banks with a bargepole – which costs the Government money and is likely to make any recovery much more difficult.
Under the terms of the deal agreed this weekend, the Government will buy £9bn worth of preference shares in the three banks, paying out a coupon of 12% (so the £5bn of RBS shares will yield £600m a year). Until these shares are redeemed – which won't be for five years at least – the banks aren't allowed to pay out a dividend. You can see the thinking behind this: since these banks are effectively being propped up by taxpayers' money for the next few years, it wouldn't look good if they continued to pay out juicy dividends. Quite rightly, the government thinks that shareholders should pay the price for the banks' failings.
However, this creates a problem. If you're a shareholder in the three banks, not only do you face having your stake diluted, but you're also not going to see any dividends for at least five years. Even if you're not an income fund (which won't be allowed to own the stock now even if they wanted to), this makes the banks a lot less attractive. So it's no wonder their share prices have since plunged – all three are now trading below the price the Government agreed to pay, making it highly unlikely that private investors will take up any of the new shares (and leaving the Treasury sitting on a £3bn loss).