Barack Obama sweeps to power - now for the hard bit
It could be a very short honeymoon period for Barack Obama, the new US president-elect...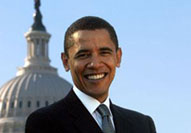 To nobody's great surprise, Barack Obama was last night elected as the 44th president of the United States of America, after a crushing defeat of Republican John McCain. The Democrat camp is rightly cock-a-hoop about the scale of the victory – 349 of the available 511 electoral college votes (so far). But wiser heads will know that with the US economy in a tailspin, Obama faces a huge task to try and resurrect his country's fortunes. Indeed, beating the Clintons and the conservative right to the presidency might turn out to be a breeze in comparison...
There's no question that Obama is inheriting an economy in disastrous shape. The US is clearly entering a painful recession, as the fundamentals continue to deteriorate. After spending billions bailing out the financial system, next year's budget deficit is expected to spiral above $1trn. Obama will be presiding over a period in which his countrymen see their jobs cut, their companies go to the wall, and their spending power diminished – all in his first big executive job, and all at a time when the US is also embroiled in two expensive and unpopular conflicts overseas. No President has taken office with his hands so tied since FDR in the 1930s.
On the other hand, it's partly because of the economy that Obama finds himself in the Oval Office; if America wasn't in such a parlous state, his message of change wouldn't have been so powerful. 62% of voters said the economy was the most important issue in this election, making it by far the most significant factor, and it appears that they trusted Obama more than McCain to solve the problems – despite his lack of experience. His reaction to the recent financial crisis – where he sought advice from respected sages like Paul Volcker, Robert Rubin and Warren Buffett – has won plaudits where his rival's response attracted brickbats.