Barclays in Africa: Antony Jenkins on microfinance and the future of banks
It's banking, Africa-style: Ugandan loan societies that pay interest to investors, or a mobile phone scheme making 670 million payments in Kenya. Barclays plans to draw on such energy and spin a thread from the City to an £80 loan for fresh veg.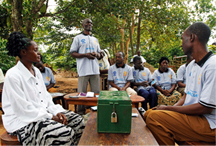 Where better to consider what comprises 'socially useful' banking than at the small village of Ndimugezi, an hour's drive east from the Ugandan capital, Kampala? The 30 members of the Village Savings and Loans Association (VSLA) - 16 women and 14 men - are conducting a regular meeting, with the padlocked cashbox placed prominently on a table in the middle of the compound.
VSLA chairman Patrick Isabirye calls the meeting to order with a prayer. The members agree to put aside 15,000 Ugandan shillings (£4.10) for the welfare fund. Then it's down to business. In August, Abdul Bamingba took out a USh300,000 loan (around £80) - a large sum in a country where many earn US$1 a day - to buy vegetables to sell and to support his wife and eight children. Bamingba has been repaying it little by little, at 10% per month, and has found it a bit of a stretch. However, this is not an unusual rate in such associations, which charge anything between 5% and 20% per month, according to what they view as the risk. Association members share any interest earned, according to their stake in the total pot.
Joy Tumwesigye, more confident and articulate than Bamingba, tells how the VSLA has helped her improve her lot. Several years back, she borrowed 800,000 'bob' (£220) for a cow. She also borrowed to send two of her children to university and opened two 'simple hotels'. She has earned more interest than anyone. A round of applause for a true entrepreneur, maybe even a banker, in the making.