Barclays banking on Middle East cash
Barclays is so keen to steer clear of the Treasury that it's raising £7bn from Abu Dhabi and Qatar instead...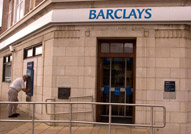 British bank Barclays said today that it will raise £7.3bn from the oil-rich royal families of Qatar and Abu Dhabi, which means it won't have to go cap-in-hand to the Government for funds. Barclays actually made a profit in the first nine months of the year, so unlike rivals Lloyds TSB, HBoS and RBS, it seems to be dealing from a position of relative strength – but it's also clearly desperate not to have Treasury apparatchiks peering over its shoulder for the next five years…

It might seem a bit odd that a British bank would choose to raise money from two Middle East state funds, rather than taking the cash from its own government – particularly since this capital may actually turn out to be more expensive. £3bn of the securities issued will pay an annual coupon of 14% before tax, more than the 10-11% the Government is charging, and will also come with warrants attached (unlike the Treasury funds). There's also £4.3bn in convertibles, which will pay a coupon of 9.75% until they convert next year (at a 25% discount) – after which Qatar and Abu Dhabi will probably end up owning about a third of Barclays. So this isn't exactly cheap money.
Unlike the Treasury plan, it also means that existing shareholders won't be able to participate in a deal that could have allowed them to buy new shares on the cheap, rather than see their holdings diluted (also on the cheap). Barclays did fleetingly refer to this in its statement this morning, but suggested that a full offering would be too risky and time-consuming. It remains to be seen whether the bank will actually be able to persuade shareholders on this point next month.
So if the deal is no cheaper than the Treasury deal, and arguably less attractive to existing shareholders, why exactly are Barclays doing it? Well, the key phrase in today's statement was its assertion that this move would keep it 'strong and independent'. In other words, Government money would come with strings attached: it will probably mean lower bonuses, no shareholder dividends, and constant attention from the Treasury. It could even threaten the jobs (and bonuses) of CEO John Varley and investment banking boss Bob Diamond – and turkeys rarely vote for Christmas. What's more, it allows Barclays to boost its coffers without having to expose its books to general scrutiny.