Barclays caves as Varley puts job on the line
Barclays has offered UK investors a slice of its rights issue - and put its entire board up for re-election.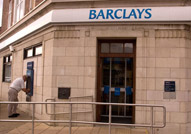 Barclays has finally given in to the growing hostility to its proposed £7bn Middle Eastern capital-raising – it's going to let UK investors buy (a relatively paltry) £500m of reserve capital instruments, a type of security that in this case will pay out a juicy 14% coupon. The bank's head honchos, led by CEO John Varley, have also tried to head off their critics by agreeing to forego all their annual bonuses, and, remarkably, by offering themselves up for re-election en masse at next April's AGM. A rather melodramatic 'back us or sack us', in other words.
Barclays' big shareholders – who include L&G and Aviva – have been up in arms about the terms offered to the Middle Eastern funds providing the bank's fresh capital. Under the new arrangement, the Qatari and Abu Dhabi investors will now give up £250m each of these instruments, for other (mostly British) institutional investors to buy. However, they're hanging on tight to their lucrative warrants, which will eventually give them a combined stake of about 30% in Barclays. They might want to soothe relations with the rest of the shareholder base, but they're not soft...
Many critics argued that it would have made a lot more sense for Barclays to take the British taxpayer's money, rather than going cap-in-hand to the Persian Gulf and selling shares on the cheap. And the more unkind suggested that the Barclays board only did this because they didn't want the Treasury capping their big fat bonuses – hence today's announcement that its executive directors won't be taking a bonus this year. And this is actually a pretty big concession: poor old Bob Diamond, the head of Barclays Capital, will have to make do with a measly £250,000 this year, rather than the eye-popping £21m he took home last year (wonder if he'll be shopping at Aldi this Christmas?).