Barclays hires an American to try and beat the Americans
Barclays is reportedly on the cusp of having new CEO, Jes Staley - a hedge fund boss who spent 34 years at JP Morgan in New York.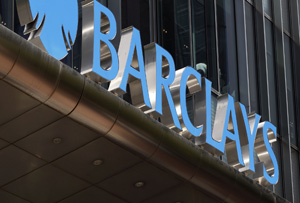 The about to be appointed new boss of Barclays Jes Staley is a US i-bank veteran who has spent the last few years running a hedge fund. Remind you of anyone? (Clue - like Bob Diamond, remember him?).

Proof if proof were needed that Barclay's is back in the high stakes game of investment banking pioneered by the aforementioned Diamond (the swashbuckling boss was ousted on the back of the Libor rigging scandal et al) is the pedigree of its new CEO, James 'Jes' Staley.

Staley is a new York hedgie who spent 34 years climbing up the ranks at JP Morgan and was once the hot tip to take over from Jamie Dimon as CEO. Indeed it's not the first time that Barclays has gone after him, having approached him before back in 2012.

The appointment - leaked today in the FT - is not quite official yet, but it does chime neatly with the view of take-no-prisoners chairman John MacFarlane that while it's not quite 'game over' if Barclay's is to try and catch up with the big US i-banks, it had better get a wiggle on. What better way to put on a burst of speed than to hire one of Wall Street's finest, a man who presumably knows all the tricks and wrinkles already?

Flip-flop-banning MacFarlane of course is well known for not letting the grass grow under his feet when in pursuit of a fat profit, as the jaw-droppingly direct way in which he dismissed previous CEO 'Saint' Antony Jenkins demonstrated. Retail banking and earnest urging of staff to 'do the right thing' are all very well, was his not-so-subtle subtext, but they won't bring home enough bacon to keep me happy.

So what can we expect of new boy Staley - presuming he does get the gig of course? Nothing short of a massive strategic volte face could be on the cards - post Libor under Jenkins, Barclays tried to convince the world that it had turned over a new leaf and was really squeaky clean, hiving off it's asset management business and scaling back its giant-killing BarCap investment bank massively. 'We're so boring you really can trust us,' was the unspoken message.

But boring banks don't generate the numbers for big salaries and fat bonuses. Staley would be a return to the Barclays we knew and hated/loved (delete as appropriate) - aggressive, expansive, dangerous. It's a bold move but not without downside risk, as they say in the City. After all, things didn't exactly end well under Barclays last American i-banker boss, did they?