Barclays and HSBC cash in thanks to international muscle
As Lloyds and RBS flounder, two of the banks that avoided a state bail-out are seeing profits soar.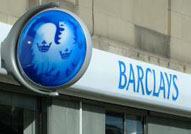 Financial crisis? What financial crisis? Barclays said today that its underlying profits in the first nine months of the year were almost double those of the same period last year – and it may yet rack up record annual profits of more than £11bn (boosted by the imminent sale of fund manager BlackRock). Despite seeing income slide and bad debts mount in the UK, the investment bankers in Bob Diamond's BarCap division appear to be making out like bandits, particularly in the US. Meanwhile HSBC said today that third-quarter profits were 'significantly ahead' of last year. On the day that Lloyds announced another 5,000 job cuts, it's becoming increasingly clear that banks who can make their money outside the UK are going to be the big winners this year…

Barclays' headline profit of £4.5bn was almost 20% down on last year – but the underlying figure of £4.4bn was 116% up. All in all, it raked in revenues of nearly £24bn during the first nine months of the year – a 26% rise, and more than it made in the whole of the previous year. Of course, it hasn't avoided the impact of the recession entirely: it will apparently need to put aside a whopping £9bn to cover the cost of bad debts this year, while its UK retail banking profits 'decreased significantly', according to CEO John Varley.

However, Barclays' global retail banking arm saw income jump 11%. And the acquisition of the rump of Lehman Bros in the US is looking increasingly like a masterstroke: all in all, Diamond's investment banking division boosted income by a third. No wonder his empire continues to grow: after the departure of Frits Seegers last week, he now controls all the bank's investment and commercial banking operations, which means he'll be responsible for a huge proportion of Barclays' profits. (Check out our interview with chairman Marcus Agius for more on how Barclays manages this fascinating dynamic).

HSBC is also doing very nicely, thank you, with profits well up on last year (though it didn't give precise figures). In fact, CEO Michael Geoghegan (click here for our recent interview) suggested today that the bank had successfully navigated the worst of the economic storm – though he also stressed that emerging markets would recover much faster than developed ones like the UK. Since HSBC has a strong presence in the former (Geoghegan himself has just relocated from London to Hong Kong to get nearer the action) it should be sitting pretty as a result.

So basically, according to today's results, the UK remains a dead loss for these big UK banks – but their international presence is allowing them to cash in elsewhere. Good news for some UK shareholders, we suppose, if not for the economy as a whole.

In today's bulletin:
Barclays and HSBC cash in thanks to international muscle
Imperial's Alison Cooper joins ranks of female FTSE bosses
Editor's blog: Keep Cadbury British
Shoplifting soars as we feel the downturn pinch
Charities: cancer good, religion bad