Barclays is being investigated for automatic forex rigging
Looks like another bad day to be a banker. New York's financial regulator is now allegedly investigating whether Barclays and Deutsche Bank used forex-fixing algorithms.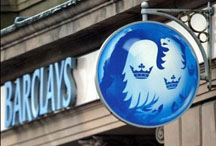 If you're told that DFS is investigating you for rigging foreign exchange rates, you'd assume someone in the sofa company's credit department had gone a bit power crazy and just ignore it. Unfortunately for Barclays, this DFS is actually New York's Department of Financial Services, and it has the power to hand out crippling fines rather than discount futons.

According to a nameless, in-the-know source for Reuters (for ease, we'll call them Morpheus), the DFS is probing the currency trading algorithms at Barclays and Deutsche Bank to see whether forex rigging there may have been automated.

Currency rigging involved traders colluding to manipulate the '4pm fix' price, which is determined by averaging the price during a one minute window around 4pm in London. The offending traders placed heavy orders during that window and then used their prior knowledge of the corresponding exchange rate movement to make a quick buck.

Barclays and the other banks have always maintained that such rigging was the action of rogue traders. This allegation about Barclay's BARX (woof) and Deutsche Bank's Autobahn (fun fun fun) trading platforms, which aggregate orders to make it easier for clients to buy and sell, is clearly more serious, and, if true, could result in some rather unpleasant fines.

Barclays is already braced for serious payouts over the rigging scandal. In November, a group of six other banks were fined $4.3bn (£2.7bn) in a joint settlement by the UK's Financial Conduct Authority (FCA), Swiss Financial Market Supervisory Authority (FINMA) and the US Commodity Futures Trading Commission (CFTC) and Office of Comptroller of Currency (OCC).

This financial authority acronym brigade (or FAAB) didn't include the US Department of Justice (you guessed it, DOJ) or the DFS, and it was the latter's refusal to take part, apparently because it felt the fines were too low, that led to Barclays pulling out themselves at the last minute. In so doing, the bank forwent the 30% reduction in the fine that was awarded to the othes for settling.

Barclays thus faces possible payouts to the DFS, DOJ and the rest that could go well into the hundreds of millions of dollars, which is why it recently put aside half a billion pounds to cover its costs.

The market didn't seem too disturbed by the news, however. Barclays shares were down only 0.72% to 235.6p at the end of morning trading, implying either that investors give the allegations little credibility or that it's nothing they weren't already expecting.