Barclays' John Varley expects 30% house price crash
The Barclays CEO is predicting more bad economic news in 2009 - but he is boosting business lending...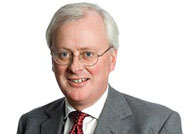 John Varley clearly isn't brimming with Yuletide cheer – the Barclays boss has added to the general gloom with some dire predictions about the UK economy's fate in 2009. Rather than the worst being over, he seems to think we ain't seen nothin' yet – he expects house prices to fall by up to 30% from their 2008 peak (which means that we've got another 10-15% to go) and unemployment to hit 7.5% by the end of 2009. Christmas dinner must be a barrel of laughs round the Varley household…
In an interview with Sky News, Varley said that Barclays was expecting house prices to fall by 'something like 25-30%' from peak to trough. 'I suspect we're about halfway through that at the moment,' he suggested, implying a further 15% fall in 2009. This would take the average value of a house to £140,000 (based on the latest figures from the Halifax), and would send another raft of homeowners into negative equity. Not exactly the kind of comment that will restore confidence to the battered market…
Varley also indulged in a spot of self-flagellation, admitting that the banks' irresponsible lending policies were partly to blame for the current downturn. 'I think the last 10 years will be seen as an anomaly rather than a normalcy,' he said – or, as you or I might put it, lending 100%-plus mortgages to people who couldn't really afford it was 'madness' (like, duh). Now, he said, it was time for banks to say sorry and 'take their share of responsibility' for our current woes. All very admirable, though whether this will extend to going easy on all those homeowners when they try to remortgage in the next 18 months remains to be seen.