Barclays rebels against lending targets
Targets could encourage irresponsible lending, says the bank's SME chief in a bizarre role reversal.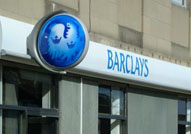 Get your tin hats out, the apocalypse is on its way. We only say that because, in an unprecedented reversal of roles, a bank has managed to find a way to accuse the government of being irresponsible. Steve Cooper, the man in charge of business lending at Barclays, has dug his heels in over lending targets the Government wants Barclays to sign up to. Cooper says he's worried the targets could encourage banks to take a reckless approach to lending. In the great battle between banks, businesses and the Government over the state of business lending, it's the first line of reasoning from a bank that has actually made sense. We think we spy the four horsemen in the distance…

After much placard-waving and voicing of dissent from business lobby groups, the government has hastily employed the targets to rekindle banks' enthusiasm for lending. It was an interesting tactic, particularly considering David Cameron's oft-voiced derision of Government targets while he was in opposition. Because Barclays was the only one of the 'big four' banks that didn't require government help over the course of the financial crisis, though, it is one of the few that isn't obliged to sign up to the targets. It's hard not to see Cooper's criticism as representative of what other banks would say if they weren't forced into signing up to the targets – so one way or another, for the government, it's going to smart.

One of the banks' favourite defences against business' complaints that they aren't lending is that applications for loans have gone down. Businesses hit back, saying borrowing is too expensive – and indeed, Cooper himself admitted that small businesses are paying an average of 100 basis points more for loans than they were before the financial crisis. But he also pointed out that with higher costs (not to mention taxes) and stricter regulations on how much capital the banks have to hold, the price of loans was inevitably going to go up.

So it looks like while Barclays recognises the need to increase lending, it's not impressed by the Government's new policy. 'I don't want to create an expectation that if Barclays said no on Thursday, [because it needs to meet targets] it could say yes on Friday,' said Cooper. It's a sensible criticism of a policy that may well increase bank lending – but at the long-term cost of economic stability. Which, after all, was exactly what started this in the first place. Time to go back to the drawing board?
In today's bulletin:
Unite consents to BAA peace talks
Barclays rebels against lending targets
Editor's blog: Two-speed Europe gets into gear
Battle of the sexes, round 3,492: women 'more responsible' entrepreneurs
The Parent Project: Going on maternity leave