Barclays set for record profits
Barclays is on course to deliver record profits again this year, despite the credit crunch and despite the overdraft charges controversy. Rumours of massive losses may have sent its share price plunging – but so far it actually seems to have weathered the sub prime storm better than most.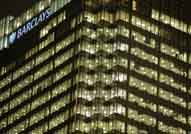 Barclays said this morning that it expects pre-tax profits for 2007 to be £7.1bn, a like-for-like increase on last year's record total of £6.8bn and broadly in line with market expectations. CEO John Varley said the bank had enjoyed 'good underlying growth' in retail and commercial banking in the nine months to September, and shown 'resilience' in its investment banking and fund management business 'in the face of turbulent market conditions'.
Its UK business is still going well, despite the row over penalty charges for customers who exceeded their overdraft limit. Barclays has so far coughed up £87m in refunds, although it's holding off for now until the courts decide next year whether these charges are legal. Still, it doesn't seem to have put customers off – profits were up both on the retail and commercial side, and there was a similar story at Barclaycard.
There wasn't much more guidance about the performance of Barclays Capital, its investment banking arm. The division was forced to issue an emergency trading statement two weeks ago to try and stem rumours that it had incurred massive losses on sub-prime mortgages, and news that it had written off a 'mere' £1.3bn (rather than the rumoured £10bn) does seem to have calmed things down a bit.