Barclays sheds its Spanish banks - and £500m
The bank is ditching its non-core assets to get its performance back on track - which means taking a hit in the short-term.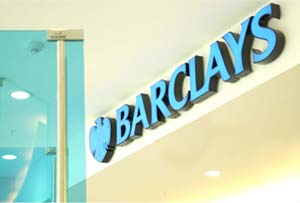 Barclays is selling vast swathes of its Spanish interests – its retail bank, wealth management arm and commercial banking business – to Caixabank, Spain's third-largest lender, for €800m (£630m), as part of its on-going cost-cutting drive.

Of course getting in shape naturally involves enduring some pain. Namely a post-tax loss of £400m, booked into the third quarter of 2014, and a further £100m upon completion around the end of the year. The good news? The deal reduces Barclays' leverage exposure by £15bn.

According to Reuters, Barclays shut or sold 161 branches in Spain last year, cutting around a third of its workforce there, after the collapse of the Spanish housing market and ensuing deep recession put paid to its rapid expansion into the country. So having gone from the bank that likes to say 'yes', to the bank that likes to say 'si', it suddenly now seems more likely to exclaim: 'Just take it somebody, please'.

And the rain's plainly not falling merely in Spain. Since May chief exec Antony Jenkins has been forced into a cost-cutting drive across the business in a bid to restore profitability and get investors back on side. As well as shedding 19,000 jobs worldwide, including a hefty 9,000 in the UK, he has also created a 'bad bank', a group of businesses no longer considered essential to operations, including its retail banking arms in Spain, Portugal, Italy and France – with the aim of offloading them.
Presumably the name 'bad' bank was chosen to help the general populace to distinguish it from the 'good' banks they're so famously fond of.

Barclays' offloading in Spain is of course Caixabank's gain, and it certainly seems a sweet deal for the Catalan bank: it acquires 250 branches and 550,000 new clients, many of whom boast deposits in excess of €100,000, as well as assets worth €21.6bn.
Meanwhile it means another step towards consolidation in the Spanish banking sector, coming hot on the heels of BBVA's purchase of the state-owned Catalunya Banc. The Spanish banking sector is now overwhelmingly dominated by Banco Santander, BBVA and Caixabank, at a time when Spanish GDP is set to grow 2.1% in 2015, according to the European Commission.

Elsewhere Barclays has announced it's getting rid of its retail banking arm in the United Arab Emirates, selling a portfolio of mortgages, unsecured credit and deposits to Abu Dhabi Islamic Bank at an estimated pre-tax gain of £119m.