Barclays suffers £47m third-quarter loss thanks to PPI
The bank has reported a pre-tax loss of £47m because of the cost of PPI compensation charges, and has warned that it may face another fine from US authorities.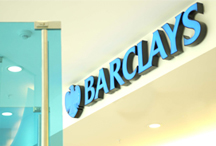 The PPI mis-selling issue that has been plaguing many UK banks is now hitting Barclays rather hard. The bank today announced a £47m pre-tax loss for the third-quarter of this year, compared with a £2.4bn profit for the same period the previous year, and even £1.2bn profit in the quarter just before. The hit includes a massive £1.1bn charge that the bank has had to pay against its own debt, under a controversial new accounting regulation.
So, does this mean the bank is in bad health? Not in the long term, no. If the effects of the charge against debt and the PPI compensation are stripped out, the bank would have made a clean £1.7bn profit, an increase on the previous quarter and probably just about enough to keep investors happy. And whilst the bank does have to pay these monstrous amounts of money (it has now got £2bn set aside for PPI claims), that storm will eventually blow over, leaving the bank in a better position.
Just as an aside, it is worth noting that the effect of PPI compensation payouts on the economy is significant. In March this year, the Office for Budget Responsibility revised its forecast for income growth over the following two years upwards by 0.5%, saying that this was largely because of the effect of PPI compensation. But, then, it stands to reason. If you inject billions of pounds into the real economy in a short space of time, it tends to offer a little boost.