Barclays writes off a mere £1.3bn
It wasn't quite the £10bn write-down that some had been predicting, but Barclays today become the latest bank to admit that it had lost billions on sub-prime mortgages.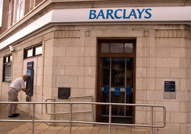 Speculation had been flying about the City for weeks that Barclays was sitting on massive losses from its investments in dodgy US mortgages, causing the share price to bounce up and down like a head-banger at a heavy metal concert (trading was even suspended briefly on Friday when the rumours reached a peak). As a result, the bank has been forced to issue an emergency trading update, even though it's only two weeks until their quarterly results.
The news wasn't great – but it could have been a lot worse. Barclays was forced to write off £800m in October on top of a £500m write-down in the previous quarter, leading to a total loss of £1.3bn. Bob Diamond, who runs its investment banking arm Barclays Capital, blamed this on 'the impact of rating agency downgrades on a broad range of CDOs and the subsequent market downturn'. He said the bank had changed the way it valued its exposure, taking a more conservative approach and writing down the value of its riskiest collateral backed securities to zero.
As you'd expect, Diamond was putting a brave face on things today, pointing out that pre-tax profits of £1.9bn for the year to October (despite the losses) was still an improvement on last year's record total. Although that's largely because the division had such a storming start to the year, making profits of £1.7bn in the first half. He also stressed that other areas of the bank – such as its commodity, equity, currency and interest rate products – were all going great guns.