Baroness Kingsmill: Why is it so difficult for British women to get to the top?
While we've made some progress since the 1980s, tougher action is needed to address inequality between the sexes, says Denise Kingsmill.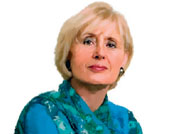 For those of us bringing the first sexual harassment cases in the early 1980s, the conspiracy of silence that surrounded the horrible, exploitative behaviour of the late Jimmy Savile is particularly sickening. So too is the way in which so many showbiz and media has-beens seek to extract a morsel of self-serving publicity by claiming to have known all about it at the time. They didn't speak up, they claim, because 'no one would have believed them', or 'times were different then'.
Do they not realise that they were colluding in the repellent behaviour by remaining silent? That they were enabling the abuser by failing to express anger or disapproval? Some of them, unafraid to be loud-mouthed in other contexts, should have known better and used their 'celebrity' to expose him and protect the vulnerable.
Fortunately, some people did speak up against harassment at the time, if not about Savile. Brave victims brought legal actions, the few lawyers working in this field brought test cases and some supportive journalists wrote insightfully about the issue.