Barratt has a bee in its bonnet over Royal Mail strikes
The Royal Mail strikes have caused an unforeseen setback for the struggling property group.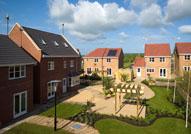 First it was bankers, now it's striking Royal Mail workers who are the scapegoat du jour. Yesterday they were blamed for delaying the UK's economic recovery, and today Barratt Developments has stuck the boot in too. The property group, which is currently trying to drum up support for a £720m rights issue, has been moaning about the effect of the postal strikes on its proposed capital raising. It has even issued a statement encouraging eager shareholders to make alternative arrangements to ensure their documents are returned in time (and, more importantly, their cheques). Carrier pigeons, perhaps?

The final deadline for shareholders to take up their options is 11am on 3 November, a week today – but if the Royal Mail has anything to do with it, Barratt may be lucky to get them by Christmas. It's now understandably in something of a panic, because although some deadlines are flexible, this isn't one of them: the strict regulations regarding fundraisings and other stock market issues will not allow changes to the offer at such a late date. And it's not as if investors have even had plenty of time to consider their options: most only received their application forms in the middle of last week.

Talks between the Royal Mail management and the Communication Workers Union are due to restart today in an attempt to avoid the second round of planned strikes later this week. But the atmosphere remains tense: CWU members are to decide today whether they're going to take legal action against Royal Mail over its use of 30,000 temporary workers, who have been drafted in to help clear the backlog of deliveries.

Which brings us to another big problem for Barratt and co. Even if Royal Mail and CWU do manage to resolve their differences and kiss and make up, calling Thursday's strike off in the process (and that's a pretty big if), there's going to be a huge backlog for postal workers to sort through: the CWU claimed on Saturday that 100m items of mail had been delayed. So Barratt shareholders had better get creative with methods of returning their options, or the homebuilder could be left high and dry.

In today's bulletin:
BP shares soar after 50% drop in profits
Barratt has a bee in its bonnet over Royal Mail strikes
Editor's blog: What to make of Warren Buffett?
Is Twitter and Facebook use costing UK plc dear?
Secretaries still getting a raw deal