Barratt builds on Help to Buy as Hands attempts German float
Positive results from Barratt comes after a string of good results from housebuilders - although the German sector isn't doing quite so well.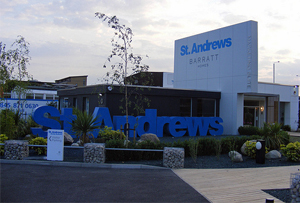 It's been a month of good news for the British housebuilding sector – not least for Barratt, which this morning posted results showing sales have risen by 7.9% in the second half of its financial year, and jumped by more than a third since the launch of the government's Help to Buy scheme in April.

The housebuilder said full-year pre-tax profits would hit £192m, ahead of analysts' expectations. Such is the demand, it added it will hit a target to complete 16,000 new homes a year earlier than expected – and it's even bought up more than £1bn worth of land.

So it looks like the government's much-criticised (it was described as 'a truly moronic policy' by one analyst) Help to Buy scheme is helping – even if the ones who are gaining the real advantage are housebuilders. Over the past couple of weeks, Persimmon, Redrow and Taylor Wimpey have all said they've benefitted from higher demand caused by the scheme.

Given construction is seen as a bellwether for economic prowess, that's pretty good news for the government. But raising demand like that without addressing the fundamental issue of supply is risky. Unless something is also done to dramatically increase the number of houses being built, there is a good chance that another damaging property price bubble will be inflated.
Not to mention the fact that when interest rates eventually rise again - as they surely must at some point - all those who have been 'helped to buy' at current historically low borrowing rates may end up wishing that the government hadn't been quite so 'helpful' after all.


Nevertheless, contrast that with the performance of the German residential market, traditionally seen as a very reliable investment. The market (which, admittedly, isn't quite like the UK's housing market, given that about 60% of the population rent their homes) has fallen for the first time over the past few months. Its index (the FTSE EPRA/Nareit index of German property, if you're interested) has dropped by 10% this year, compared with a 33% rise in 2012.

Not the ideal time, then, to be floating a German residential company – but Guy Hands seems determined. His firm, Terra Firma, shied away from floating Deutsche Annington, Germany's largest residential landlord, last week – but now it's having another go, albeit at a knocked-down price.

The landlord is seeking to raise €575m-€590m, down from the €1.2bn had originally anticipated, for the 34.8m new and existing shares it will float. Share price has dropped from €18-€21 to €16.50-€17.

Is it low enough to make investors bite? Difficult to say. The IPO was originally deferred after the US Fed's comments about 'tapering' quantitative easing sent markets into a blind panic. Although things have noticeably calmed, it won't take much to send them skittering off again – so Hands is presumably praying for a quiet few days, economically speaking.

He might find himself distracted by the news that Citi, the new owner of EMI (Hands sold it to the bank in 2007 – a bitter court battle (and hilarity) ensued – more here) has just offloaded the record label's pension scheme to Pensions Insurance Corporation for £1.5bn, the biggest UK pension transaction ever.

A sign, perhaps, that Citi is finally coming close to drawing a line under its troubled history with EMI.