Barratt chief executive Mark Clare is stepping down after nine years
The boss of Britain's biggest housebuilder is going out on top.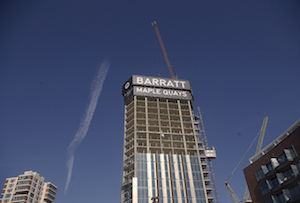 As all good CEOs (well, ones with an eye on their reputation anyway) know, it's best to leave the job on a high. And it looks like Barratt Developments boss Mark Clare is following the playbook to the letter, stepping down after nine years having dug the housebuilder out of the depths of the recession.
The 57-year-old is leaving in July (although staying in the company until October 'to ensure an orderly handover') to 'develop his non-executive career,' a rather limp-sounding reason if we've ever heard one given independent directorships don't exactly set the world alight. Unless of course Clare, currently the senior independent director at United Utilities, is 'gunning for a chairmanship,' which would probably be more accurate.
Clare is being replaced by David Thomas, who has been Barratt's finance director since 2009, after five years as finance boss and deputy chief exec of retailer Game. The company was also keen to let everyone know that the 52-year-old has four children with his wife of 26 years and likes golf and fishing. How nice.