Barratts and Priceless under threat
Having survived going under two years ago, administrators have stepped in once again to save shoe group Barratts Priceless.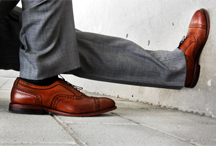 The footwear firm, which has 191 shops and 371 concessions trading under the Barratts and Priceless names, is the latest retailer to fall victim to the slowdown of spending on the high street and growing competition from cut-price competitors.

Administrators were called in on Thursday, putting nearly 4,000 jobs at risk just in time for Christmas. Tough trading conditions meant the Bradford-based group was concerned about its ability to pay its quarterly rent bill, which is due on Christmas day when one assumes it is collected by a large man in a red suit on his way home after work.

Deloitte, leading the administration, said the group had suffered at the hands of tough economic conditions, which had been 'exacerbated by the unseasonably mild weather in recent weeks which resulted in fewer sales across new winter lines'.

Still, Barratts Priceless' problems clearly run deeper than a few weeks of mild weather. The retailer was put into administration in 2009. Current owner Michael Ziff managed to buy back 160 of 280 stores, although 2,500 jobs were lost. But since then the footwear group has faced stiff competition from cheaper stores like Primark, New Look and even supermarkets; with some analysts arguing that Barratts Priceless was too slow to react to the cheaper competition.

Barratts isn't the only retailer having concerns in the run up to Christmas. Following hot on its heels, there is speculation that clothing chain Peacocks is considering closing a fifth of its stores. A day before, outdoor clothing company Blacks Leisure announced it was looking for an emergency buyer. Habitat, TJ Hughes, Jane Norman and Focus DIY also went into administration earlier this year, suggesting that the retail sector's problems go far deeper than the weather.
As the next rent day approaches at Christmas, there's bound to be a few more unwelcome surprises.