Battered Balfour Beatty in £1bn 'love triangle'
After fighting off Carillion, Balfour Beatty receives yet another takeover offer, from John Laing Infrastructure Fund. It must be hard being popular.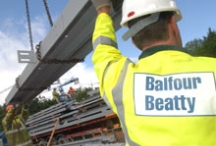 After seemingly spending the whole summer issuing profit warnings and rejecting merger talks with sweet-talking rival Carillion, struggling construction giant Balfour Beatty may have hoped it could get on with building stuff in peace. Today, that hope was dashed, as FTSE 250 listed John Laing Infrastructure Fund (JLIF to its friends) announced it's making a £1bn offer for a major part of the business.
Unlike Carillion, which wanted the whole company, JLIF is only interested in one thing – Balfour Beatty's investment portfolio, particularly its Private Finance Initiative (PFI) contracts. JLIF already has 54 such contracts already, including hospitals and roads, and now it wants the 60 or so in Balfour Beatty's stable.
The £1bn bid seems a bit low, given that in August Balfour Beatty - which employs 40,000 people in 80 countries - valued its own investment arm at £1.1bn and that Carillion's final offer for the whole firm was £2.09bn. Balfour Beatty's board is likely to resist, especially because it would break the company up, leaving them with the rump. That rump being the private construction business, which grew rapidly during the downturn by bidding low on building contracts, only for the costs of labour and materials to spiral.