BCC ups its growth forecast again
The British Chambers of Commerce reckons the British economy will grow by 0.9% this year - up from its prediction of 0.6% in March. And this time, the government doesn't disagree.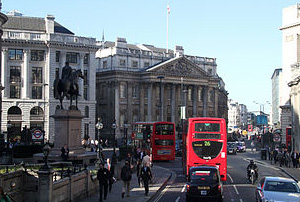 A little ray of sunshine in an otherwise dreary economic landscape: the British Chambers of Commerce has raised its forecast for UK GDP. The organisation reckons the UK economy will grow by 0.9% this year, 1.9% next year and 2.4% in 2015 – up from the 0.6%, 1.7% and 2.2% it predicted back in March.

This is the second time the BCC has made such a lofty proclamation: last month, it put itself up against the Office for National Statistics, all but wagging a finger at the government's statistics authority as it accused official figures of 'exaggerating the weakness of the UK economy'.

Lo and behold, a fortnight ago the ONS appeared to agree, revising its forecast to even more positive than the BCC, saying that growth this year would rise above 1%.

Not that the BCC is expecting miracles: the trade body said growth would remain 'modest' (aka 'lower than we'd like') until 2015, after which there will be a 'gradual medium-term improvement'. Ditto public sector borrowing, which is now expected to hit £117.5bn in 2013/14, £2.5bn lower than predicted in March. Ditto the interest rate, which will finally start to rise from the 0.5% it has been stuck at since 2009, to 0.75% in the second quarter of 2015, and 1% by the fourth quarter.

Unfortunately, unemployment won't fare quite as well: the BCC said it expects it to reach 2.650m in the third quarter of next year, 50,000 higher than it had originally predicted. Manufacturing output will also trundle along the bottom, with a 1.5% decline this year and 1.1% drop next year, finally growing by an anaemic 2.3% in 2015. Recovery in the construction sector will be similarly lacklustre, with output falling by 1.3% this year, before growth resumes at 1% in 2014 and 1.1% in 2015.

So not overwhelmingly positive – but encouraging nonetheless. BCC director general John Longworth, reckons it's now all down to the government.

"This does not change the fact that economic growth is still too weak, and the pace of recovery will remain unduly slow for a while yet. We are still a far cry from getting the economy fully back on track. The UK is, and will for some time, be performing below its potential," he says.

"But the government must step up its efforts to create the right conditions for an environment that supports enterprise, as this will help more businesses to create jobs, invest, export and ultimately, grow."

Quite.
- Photo: Flickr/Ronnie Macdonald