How to beat Goliath: The small business' secret weapon
Sometimes, David really can beat beat Goliath, argues Boris Ivanovic, chairman and founder of fibre broadband service Hyperoptic. And here's how.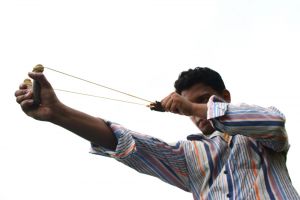 If you were to listen to all the news in the last 12 months, you'd be forgiven for assuming that 2012 has been a dire year for small businesses. However, according to the Department for Business, Innovation and Skills, the number of private businesses in the UK increased for the 12th year in a row to reach 4.8 million by the start of 2012. Almost all are small – more than 99 per cent, in fact, and the small business sector is growing more rapidly than any other. So how are they doing this, and as a start-up, how can you get a slice of the action and take on Goliaths that are monopolising industries?
Typically there's a perception that larger organisations have the advantage due to size and brand awareness. But there is one area that can make all the difference to enable David to succeed: recognising and acting upon an inflection point in the market.
Inflection points are a significant change or shift in the market place, such as in costs, regulations, production or technological advancements. These changes are important because they can create a more level playing field allowing smaller players to challenge and disrupt large incumbents.