How we beat the odds: Keshav and Shruti Malani
The brother and sister founders of Powr of You on growing up in India, investing their savings in the business and keeping it in the family.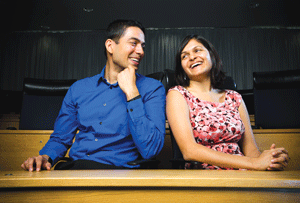 We were born and raised in Calcutta, in the east side of India. Our parents moved to the US when we were teenagers to give us better opportunities. They were entrepreneurs themselves, running a chemicals business, but when they moved abroad they started doing various retail jobs, and now own a small supermarket in the East Bay area, near San Francisco. It was difficult for them as our mum didn't speak English. Both of us worked weekends in McDonald's from the age of 14.
After finishing high school, we went to UC Berkeley for our degrees. We worked as consultants for a few years - at Accenture and Deloitte - and later came to the UK for an MBA at the London Business School.
We had always wanted to run our own business - it was just a case of waiting for the right idea. Powr of You came to us in April 2013. We were learning about the value of data on our MBA course. It struck us that if our data is so valuable, why aren't we, the consumers, paid for it? We are the ones creating the data.