Beecroft hits back at 'socialist' Vince Cable
In a high profile political spat, Adrian Beecroft has hit back at Vince Cable after the business secretary criticised his proposed employment reforms.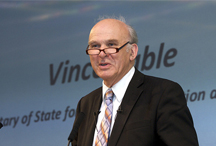 Venture capitalist Adrian Beecroft has called the business secretary Vince Cable a 'socialist…[who] appears to do very little to support business', after Cable criticised elements of the Beecroft report on employment legislation reform. The controversy began when Beecroft was commissioned by the PM to recommend changes to employment law that would make it easier for business owners to grow their company. Amongst his recommendations was a proposal to give employers the right to sack workers 'at will'.
Cable took to the airwaves with outspoken objection to the idea, describing it as 'nonsense', and now Beecroft is getting his own back. He told the Daily Telegraph: 'I think he is a socialist who found a home in the Lib Dems, so he's one of the left. I think people find it very odd that he's in charge of business and yet appears to do very little to support business.' Cable of course was chief economist at Shell before he entered politics, so unlike many of his cabinet colleagues, he has at least had a proper job.
Beecroft is a successful entrepreneur, the chairman of Dawn Capital, (a private equity fund that holds a large stake in controversial payday lender Wonga.com, incidentally), and his views on employment legislation are firmly in support of the employer. In a recent round table discussion with MT, he explained how he felt that employment law has become very effective for workers, but not for the employer. 'That clock needs to be turned back and adjusted to get that balance better,' he said.