Beer tankard half-full
Real ale seems to be defying the general decline in beer sales. Are Britain's taste buds improving?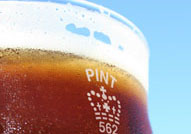 According to the Society of Independent Brewers, sales of locally-produced beers were up 8% in the first half of the year – a period when overall beer sales were plunging. SIBA's Direct Delivery Scheme, which delivers local brews to pubs, shops and off-licences across the UK, said there had been a surge in demand for its products. Real ale enthusiasts have long argued that there's no comparison between their tasty brews and the mass-produced lagers that dominate the market – could the credit crunch prove them right?
The success of SIBA's 350-odd members – who include the likes of Adnams and Fullers – is in stark contrast to the state of the beer market overall, which appears to be in sharp decline. According to the most recent figures, beer sales in pubs and bars fell by more than 8% last quarter, as drinkers chose to preserve their pennies. And it's not as if they're choosing to drink at home instead – retail sales were also down 6%.
What's more, the rising popularity of real ales is not just limited to the beer-and-sandals brigade in the comfort of their own homes. Ailing pub group Mitchells and Butlers, the owner of All Bar One, said recently that cask ale sales were up by 7.8%, with CEO Tim Clarke suggesting to the Times that it was seeing a 'general consumer trend towards quality products with provenance' – in other words, punters are choosing to drink beers that actually taste of something.