Beer trade not in good health
Beer sales have fallen nearly 10%. And it seems we won't be toasting the future either...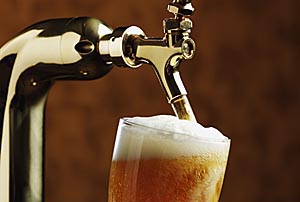 The British Beer & Pub Association has blamed both a damp squib of an August and the end of the World Cup as instrumental in driving sales down by 9.7% in the third quarter. That's the biggest quarterly decline since at least 1997.
We don't envy the industry body having to monitor such a fickle trade. As recently as July it was busy saluting the first like-for-like quarterly rise in beer sales since 2006 – thanks to the arrival of the World Cup and the hot weather (remember that?). But things have since sunk quicker than the nation's pints when Germany's fourth goal went in back in June.

Of course, the industry also faces more fundamental problems. There's the small matter of a faltering economy, with a raft of cuts and tax rises leaving even hardened drinkers questioning the wisdom of blowing their disposable income on booze.

It was worse in some areas than others. Boozers did slightly better than beer overall, showing a 7.8% fall in sales - the equivalent of 88m fewer pints drunk - compared with a 12% fall in supermarket beer sales. An interesting reversal of the recent trend.

But despite that glimmer of not-so-bad news, the industry is still left facing an uphill keg-roll. Pubs have struggled since the smoking ban and a move towards buying booze at the supermarket. Closures were up to 2,300 last year. And the government has since come along and upped booze duties by 2% above inflation.

The BBPA has been moaning that beer is taxed unfairly high – at around 42p a unit compared with 33p for cider and 37p for vodka. Add to that the 20% VAT hike in January and the picture look as bright as a barfly's eyes at last orders.

The industry body has called on the Government to 'lighten the regulatory and tax load which currently burdens the sector and is a brake on growth'. It says the industry 'needs a break'. But the BBPA is unlikely to get its way: beer sales generate about £7bn in tax revenues, and the government needs that right now – even more than the beer industry needs a medicinal pint.