Beer trouble brewing in India
The world's top beer companies may not get their dream market in India, thanks to increasing shortages of water across the region.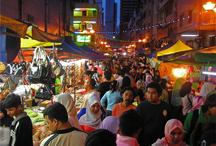 As one of the world's fastest growing economies, India has looked like a delicious sup for brewers across the globe, who have seen it as a target for some years now. But now they're facing the threat of never realising that dream: the water supply in India is suffering really rather frightening shortages. Shortages that stop cities from being able to flush the toilet and switch on the tap. Something tells us beer will have to come second…
It emerged this week that in the brewing centre of India, Aurangabad, a severe water shortage has occurred because of the nearby Jayakwadi reservoir sitting at just 2% of its useable capacity. MB Sukare, who works as an engineer for the Indian water department, told The Times: 'The current live storage in Jayakwadi can only serve us till November end. After that, the Government will give priority to drinking water over industrial purposes.' That means no more water to be filtered, used to make beer, bottled and shipped away to the west.
So why are the brewers interested in India in the first place? Well, there is massive capacity for the market to explode. Beer sales rose 17% in 2010 alone, signalling to the execs that there is some real pace in this hitherto barely-tapped market. It is predicted to double to $9bn by 2016 – a healthy increase if you can sort yourself out with a nice big chunk early on. But with such water shortages as these becoming a reasonably well known issue in recent years, doubts will start to creep in about the government's line on allowing foreign manufacturers to do their thing. Previously, soft drinks companies have found themselves in trouble for extracting so much water in some Indian regions that the water table itself has lowered.